Aliexpress is a global marketplace dominated by manufacturers from China. It is extremely popular throughout the world because it allows everyone to purchase almost any product at a low cost. Moreover, it also safeguards the interests of buyers in the event of a dispute. It is not that perfect though. You can see there a lot of people looking for Aliexpress verify account services. The reason is rating system of platform. It makes many people want to create a new account because their old one got screwed up by this system and it is necessary to operate unused mobile number to create another account. Well, it is really easy to do with such a feature as a temporary phone number.
Aliexpress multiple accounts registration
For some people, it might seem that the easiest solution to this issue is getting additional SIM cards. But it is not. They are expensive and require spending some free time to get them. It is no longer a good solution since there are temporary phone numbers. First of all, those are several times cheaper. In addition, they are obtained and used online. You don't have to go anywhere at all. Everything that a potential user has to have to perform Aliexpress verify account process in this way is literally any device and internet connection. These are necessary to access the appropriate website or app which provides temporary numbers.
However, the most significant benefit of such numbers is that they allow everyone to create an unlimited number of accounts on the same online service. This is especially profitable in the case of Aliexpress. There are two reasons for this:
Welcome coupons worth a few dollars;
Large discounts on products of up to 90% off their original price.
Both these options are available only to newcomers. So, using temporary phone numbers to create new accounts over and over again is an excellent way to save money on purchases.
Getting temporary phone number for Aliexpress
Completing this task is not only easy but also confidential if working with our platform. There is no need for users to provide any personal information. You just need to go through a simple registration process to access all available features. Here is a step-by-step guide on how it goes when it comes to creating Aliexpress accounts with us:
1. Navigate to the registration section of the sms-man.com website and enter your email address as well as your password.

2. Go to the payment page and select the payment system of your choice to fund your internal account.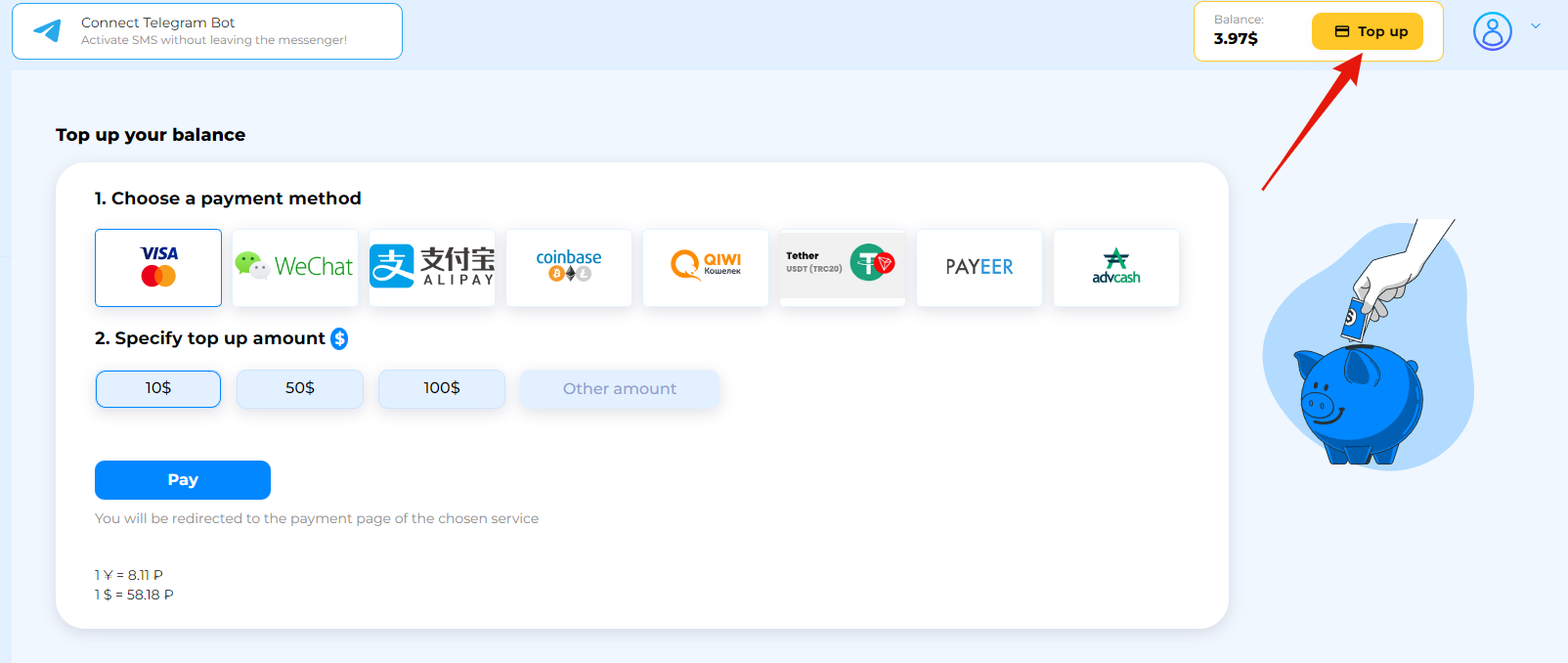 3. Select the country of a temporary number on the main page.
4. Search for Aliexpress on the services tab using the appropriate feature.
5. Click the buy button that is placed next to the name of the service.
Here it is. Now you own a temporary phone number to sign up for Aliexpress. It is available for use immediately. Just make sure to copy it before proceeding to the next step.
Aliexpress verify account using a temporary number
To perform this action it is necessary to complete a bunch of steps that are not difficult at all. So, once you have copied your temporary phone number, simply follow the steps explained below:
1. Open the official website or mobile app of Aliexpress.
2. Proceed to the registration option with the mobile phone number. Even if you choose to register by email, it still will be necessary to provide a phone number to place orders.
3. Enter your temporary number and request a verification code.
4. Go back to SMS-Man and click "Get SMS".
5. Copy the received code to verify your identity and thereby register a new account.
Want to create Aliexpress accounts in bulk? Then just keep getting and using temporary phone numbers in the same way as you did with this one. You are not limited in this regard. Everyone can activate as many numbers as necessary.