AOL is a large American company with a wide range of web services for a huge audience. It was one of the first Internet service providers in the United States and directly competed with the global giant Microsoft.
Also, it was one of the first to offer its users email accounts and a messenger. Today, this messenger is not so popular, but mailboxes and other products from this company are still in trend.
You can use their services on the official website aol.com and download applications for Android and iOS. Installing the app will allow you to easily use their mail and track the latest news in the world of politics, sports, finance, and celebrity life.
The main features provided by the application:
Latest news. You will always stay informed about world events. All articles are only from trusted sources such as AOL Finance and Sports, Engadget, HuffPost, TechCrunch. News can be shared via Facebook, Twitter.
Mail. The app gives you the ability to manage your AOL mail wherever you are. Download and send letters quickly, get access to phone and AOL contacts in one place.
Weather. Check the weather in your region with a single click. Accurate forecasts for a day and even the next hour.
Video and live streaming. Watch videos to fit all tastes or set up your own video streaming on your smartphone.
Is it possible to create AOL without phone number?
Go to the website aol.com and click on the image with a man and the inscription "Login/Join".
Next, you will have an opportunity to choose between a standard registration or sign-up via Yahoo or Google, if you have an account on any of these platforms. We will provide instructions on the standard method.
Click on "Create an account".
Next, fill out the form:
enter your first and last name;
create a login for the email address and a password;
enter your telephone number;
specify the date of birth.
after filling in all the lines, press the button "Continue".
Now you should confirm your cell number. To do this, click on the button "Text me a verification code".
6. An SMS with a code will be sent to you, enter it in the form and press "Verify".
So, you have successfully registered a mailbox on this service and created a personal account there, which is the same thing, in fact. Now you can fully enjoy all the benefits and features they offer.
But there is one question left: "Can one sign up for AOL mail without phone number?". Sure, if you want to protect your personal contact information or just need many electronic addresses, you can use virtual numbers for registration.
Buying a virtual number to create AOL email without phone number
This solution will allow you to accept a text message with an activation code and create a mailbox without any problems. One of the proven websites offering this service is sms-man.com. On this website, you can create AOL email without phone number for 17 cents. We can also help you pass SMS verification for registration on other most popular email services: Yandex, Google, Yahoo, etc.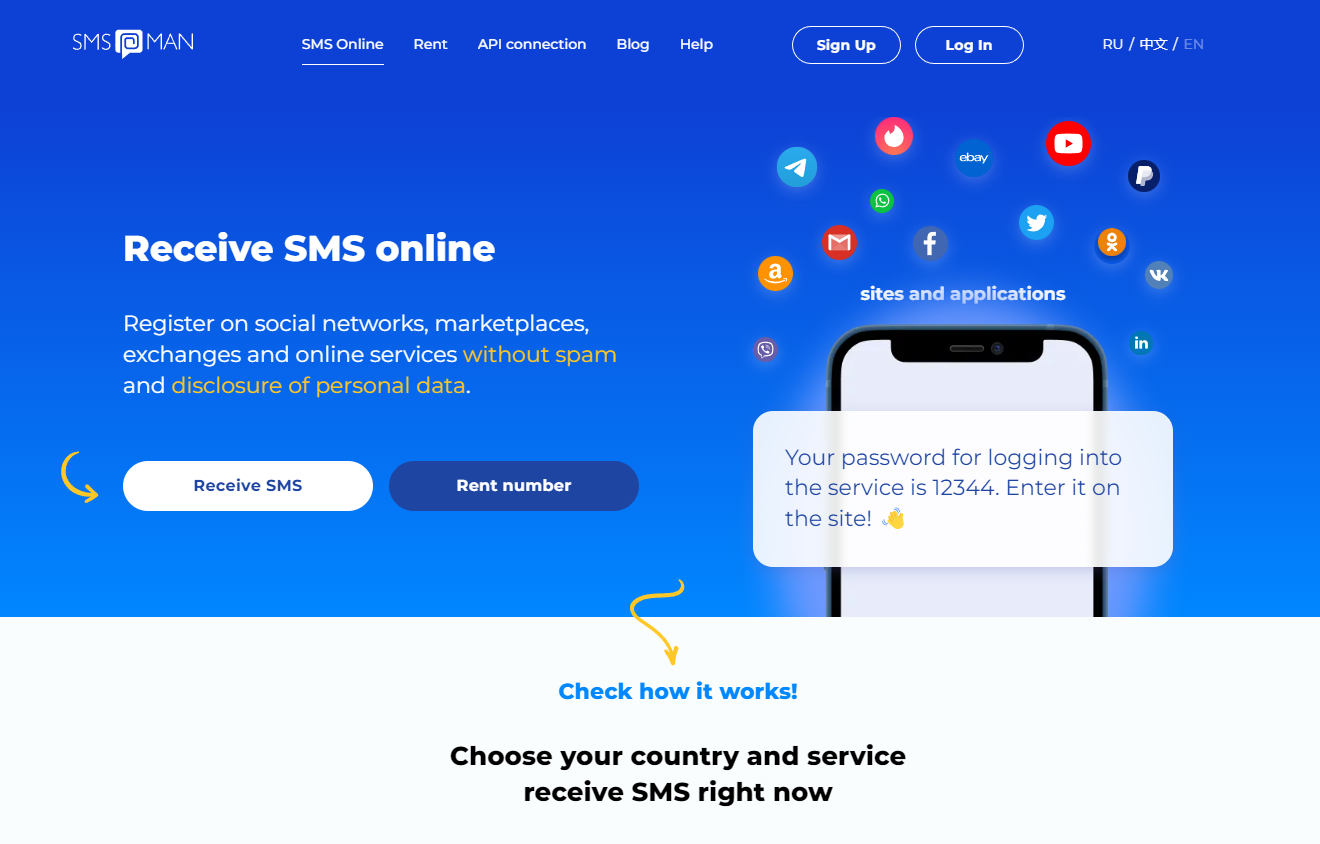 Our service accepts deposits via the most popular payment systems in dollars, rubles, and cryptocurrencies. The interface of our website is fully intuitive, so the entire purchase procedure takes just a few minutes.
How to buy a virtual number to  create AOL email without phone number (instructions):
Register at sms-man.com.
Go to "Payment" and deposit the account balance using one of the payment systems offered.
On the main page, find the app you need. To do this, you can enter "AOL" in the search line.
Click the button "Get" next to the number you want.
That's all, it is added to your personal account.
Now, you can use it to get your email box. Just copy it and paste it into the registration form. After the mail service sends a message with a code to it, go back to the personal cabinet on Sms-man and click on "Get SMS". The code will appear, you will need to copy and paste it to complete the registration. No doubt, using this method, you can also get multiple electronic addresses.
Vyacheslav is SEO expert at SMS-MAN. He also writes on virtual numbers and SMS verification issues on SMS-man Blog.
You can reach Vyacheslav at: z@sms-man.com