Every day there are more and more people who want to create fake accounts on different online platforms to prank friends, remain anonymous or promote their business with greater efficiency. Well, these are just some of the use cases for such profiles. Let's see how to get a Chinese virtual phone number to complete all these tasks.
What is a virtual phone number?
Basically, it is the same as the real phone number. The only thing that distinguishes them and can be considered as its advantages at the same time is that in order to use it you don't have to own a SIM card, paper documentation or even a smartphone. Everything happens online without the need for any of those things.
Where can I use a virtual phone number?
The best thing about such a service is that it can be used from literally anywhere in the world including China. So if you are coming from for example the US then you still can receive verification codes on virtual numbers from China or any other country.
Is it safe to use a temporary Chinese phone number?
This phone number allows you not to provide your personal data, so it is absolutely safe. Any information, even if it is fake, specified when creating a profile on a reliable online SMS receiving platform, is protected and is not subject to disclosure. It is simply impossible to associate a virtual number with the one who used it.
How to get China phone number?
First of all it can be done within a few simple steps if using SMS-Man.On the platform, you can get phone numbers for bypassing OTP in many popular services including Telegram, Gmail, Tinder, and many others. This is how anyone can get it done:
1. Open sign up page, fill out the form and create an account.
2. Top up your balance with one of the preferred methods.

3. In countries list on the homepage of the website choose China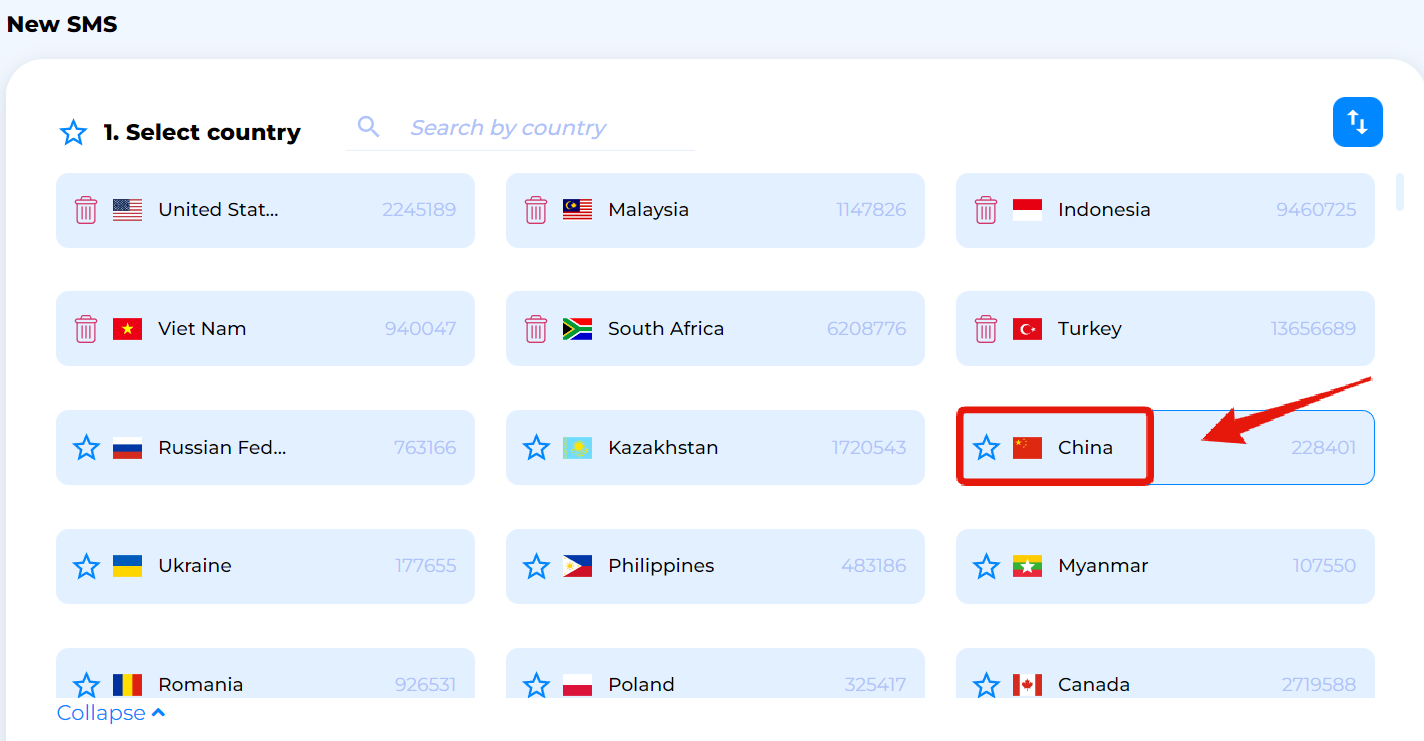 4. Open a list of services and choose one that you are going to use on.
5. Click the buy button to get the number.
6. Request on it verification code from the chosen service.
7. Press the get SMS button to reveal the verification code which will appear under the number.
How to receive SMS online from China for free?
In case you can't get a paid service for some reason, there is still a solution. We have a YouTube channel with videos that contain promo codes.
To activate one, open your profile page on SMS-Man and find the according tab. Once the coupon is entered, click the apply button to see the message saying about successful usage and check your balance.
Sms-man.com
5
Sms-man.com
Virtual number for sms verification
Chinese phone number to receive SMS