Do you need an additional profile on Likee? Many users do not know how to easily create an extra page. So, we have written a detailed tutorial, which will certainly come in handy in such cases. Just follow the instructions below, and you will successfully pass the registration. But keep in mind that your mobile number is already linked to your first page, so you will need a new SIM card.
Why and how to make another account on Likee?
One may need it for varied purposes:
a user plans to promote his business via this social media and needs a new page for that;
a previous account is blocked;
bloggers may create reserve profiles if they worry that they may get banned;
haters use extra profiles to spam comments under posts published by other bloggers;
one may use additional technical profiles to increase subscribers and likes.
Every user has his own purposes, but the question is how to create two accounts on Likee.
Step-by-step guidelines on how to add another account on Likee
To cope with the registration quickly and without any problems, take the two steps below:
Link an account on another social network;
Add your mobile number.
Now, let us discuss each stage in detail:
The easiest variant is to create a profile via another social media. So, if you have a page on Instagram or Facebook, follow this simple algorithm:
start the app on your smartphone;
log out of the system;
confirm your action.
Then, log in again. Specify the social media, where you have a profile. The app will automatically transfer all your data, including your first and last names and date of birth. So, when you enter the app for the second time, you will not have to waste time filling in your personal information for authorization.
How to make two accounts on Likee without a phone number?
What to buy a second SIM card for? We have a much cheaper and more beneficial offer for you – use the source SMS-Man, which will allow you to buy a virtual number for signing up for Likee from $0,10. Use it to create a second profile for this app with a few clicks. More to the point, you can choose among more than 200 mobile operators from varied countries and regions.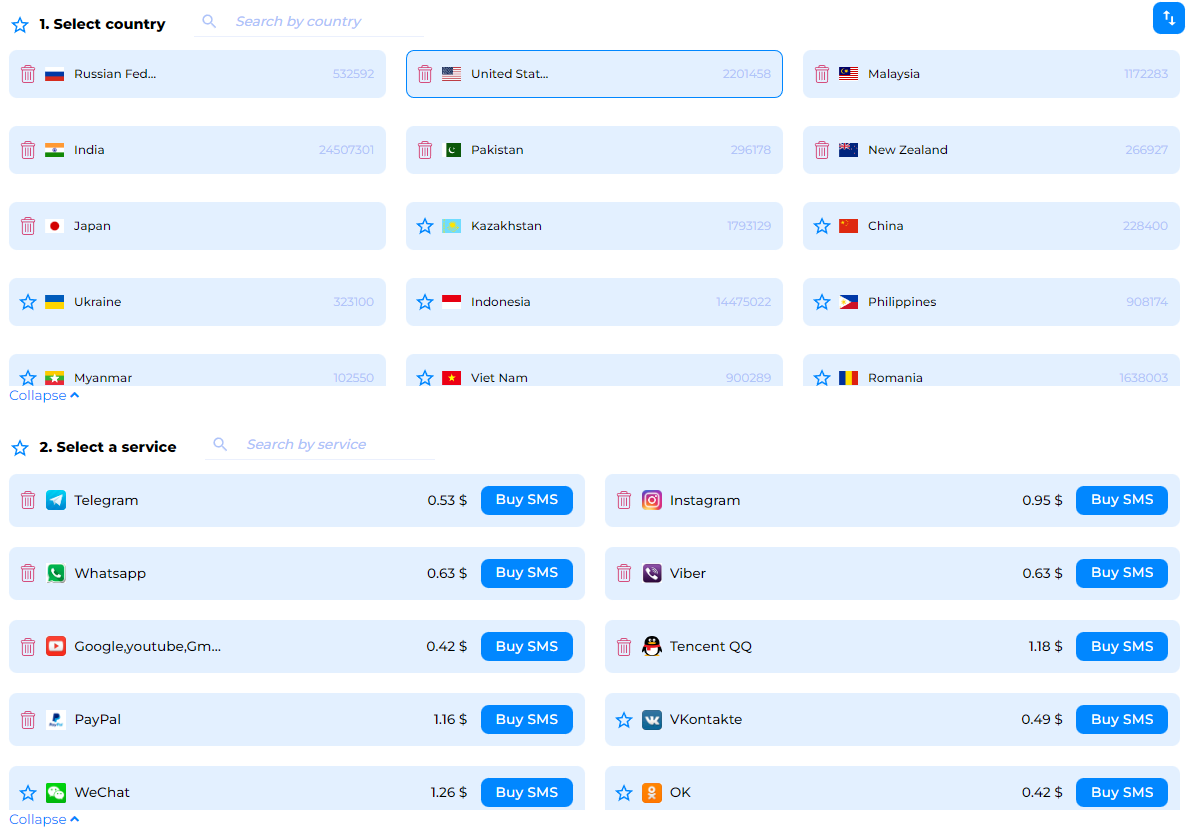 That is truly convenient ad simple, isn't it? Now you know how to pass registration for the second time without buying an extra SIM card. We accept payments by any method and in any currency – dollars, rubles, cryptocurrency.
How to make a second account on Likee and log in to it?

When you have two pages on the same source, that may cause certain difficulties and inconveniences. So, make your life easier and create a duplicate app. Follow these steps:
unlock your phone;
start the app with a long push of a button;
you will see a shortcut menu;
press on the tab "Clone";
create it;
move the duplicate soft to another screen of your Android or iPhone gadget.
You can use this cloning function to make several pages. And, if you decide to delete a profile, all the data will be removed in automated mode. Now you know how to create two accounts on Likee and switch between them on one device. Need more disposable numbers for this social network? Turn to our store and buy them from $0,10!