Linkedin is not an ordinary social network for entertainment and communication with friends, it's a serious service for searching for jobs and creating useful contacts for your professional activities. Have you heard the news about Linkedin not working in Russia? In 2016, the Russian Federal State Agency for Health and Consumer Rights added it to the list of banned websites as this social network allegedly violates the law on personal data storage.
Since then, many users faced problems. Still, everyone knows how to circumvent access blocking with the help of VPN, so I will not focus much on this. If you don't know, just install and activate the BrowSec extension in the corner of the screen. It is suitable for Chrome and FireFox.
In this article, I want to share information about what to do if this platform does not accept a Russian phone and how to sign up for Linkedin without phone number. But first, I'll tell you how to easily log in.
How to log in to Linkedin in Russia without being blocked
It is very easy to circumvent access blocking. Just install the VPN browser Hola on your smartphone. You can download it for Android from Google Play and for iOS from App Store. To log in to Linkedin Russian without any problems, just download the browser to your device and open the website of the social network via it. It is very easy, now you have Linkedin Russia access from your smartphone.
How to create Linkedin account without phone number
Many users face problems related to the fact that this social network does not accept Russian phone numbers. When you enter your mobile number in Linkedin in Russia, the following window appears:
If you see such a window and the website does not accept your phone, it is better to use a virtual number for registration. You can buy it on a wide range of sources. I would like to recommend sms-man.com.
Here, getting SMS for registration costs about $0.2. There is a huge selection of mobile operators from different countries that are definitely accepted by this social network. You can choose from a large selection of payment systems to deposit your account. By the way, here, you can also create an additional account without SIM for Vkontakte, Odnoklassniki, Twitter, Instagram, and almost any other social network.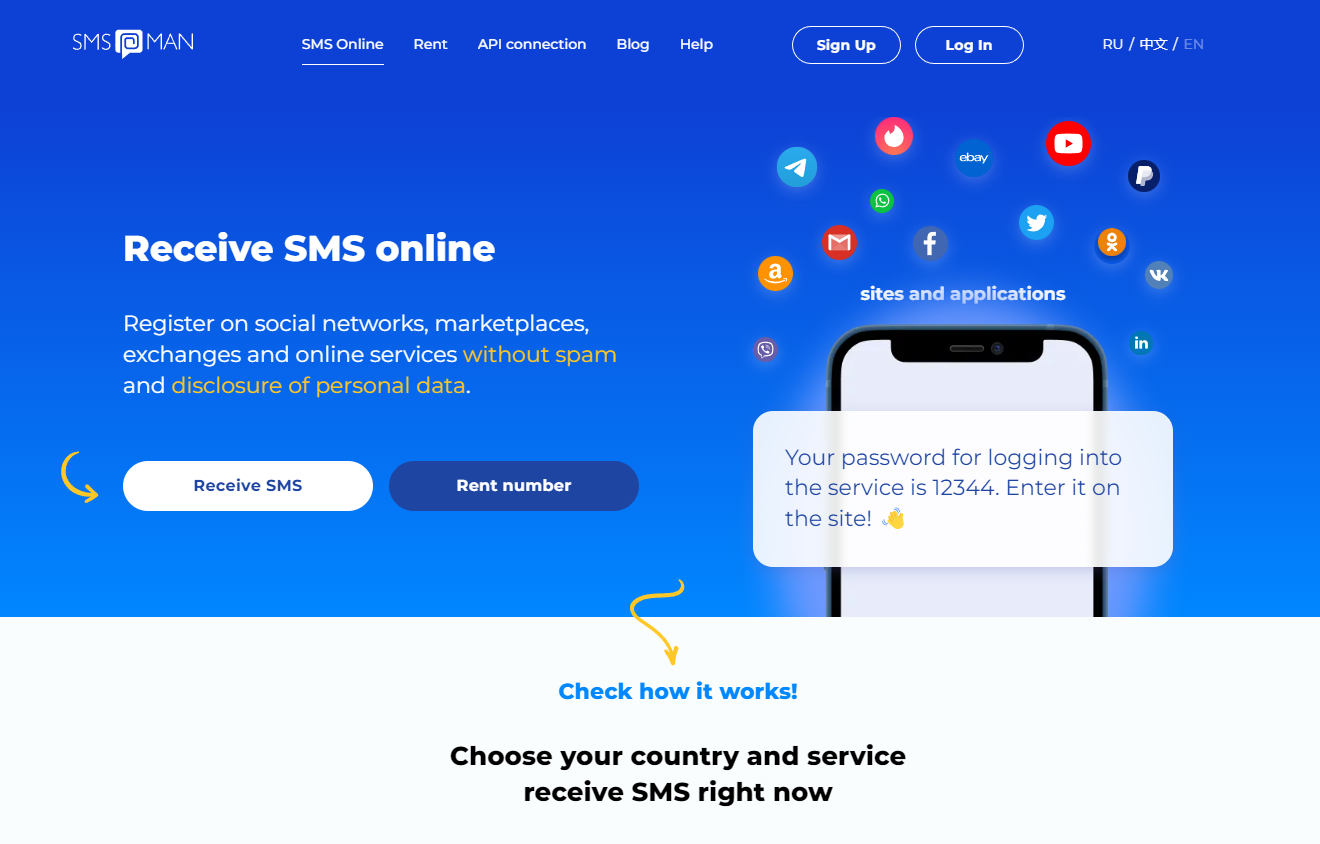 A step-by-step guide on how to join Linkedin without phone number:
Sign up for sms-man.com.
Deposit your account in a convenient way. To do this, open the menu in the left corner of the screen and select "Payment".
Open the home page and choose the service, on which you want to register.
Select a phone number and confirm its receipt. We recommend to choose an operator not from Russia, there is a good selection of other countries available. The number will be displayed in your personal account.
When registering in the social network, indicate the virtual number received.
Return to sms-man.com and click on "Get SMS" in your personal profile.
The activation code will appear in the column "SMS".
Now, with the help of VPN, you can use, without any restrictions, your own Linkedin Russian account registered without SIM.
Vyacheslav is SEO expert at SMS-MAN. He also writes on virtual numbers and SMS verification issues on SMS-man Blog.
You can reach Vyacheslav at: z@sms-man.com