The well-known messenger Telegram enjoys wide popularity among the majority of Internet users in Russia, due to its anonymity and data encryption. However, this software also has certain disadvantages – it is impossible to use Telegram without phone number, since the system requires obligatory identity confirmation by SMS code.
There are users who don't want to share their personal data or need multiple accounts for their business, and many of them are searching for options to circumvent SMS authentication. Can you use Telegram without a phone number? Definitely not. However, there are three effective methods to get a confirmation code without a SIM card.
Buy a virtual phone number to sign up on Telegram
The fastest, the most convenient, and the most popular way to create Telegram account without mobile number is to get a virtual number. This method has many indisputable advantages:
Money economy. A virtual number is dozen times cheaper than a usual SIM card.
Opportunities. You can create an unlimited amount of accounts.
Convenience. You will not depend on a phone or a SIM card.
There is a proven and reliable SMS activation service – SMS-Man. It offers virtual phone numbers for both Telegram and all the other social networks. Due to a wide range of advantages, our service easily stands out from the rest of similar platforms. So, on this website, you can sign up for Telegram with a virtual number for $0.15.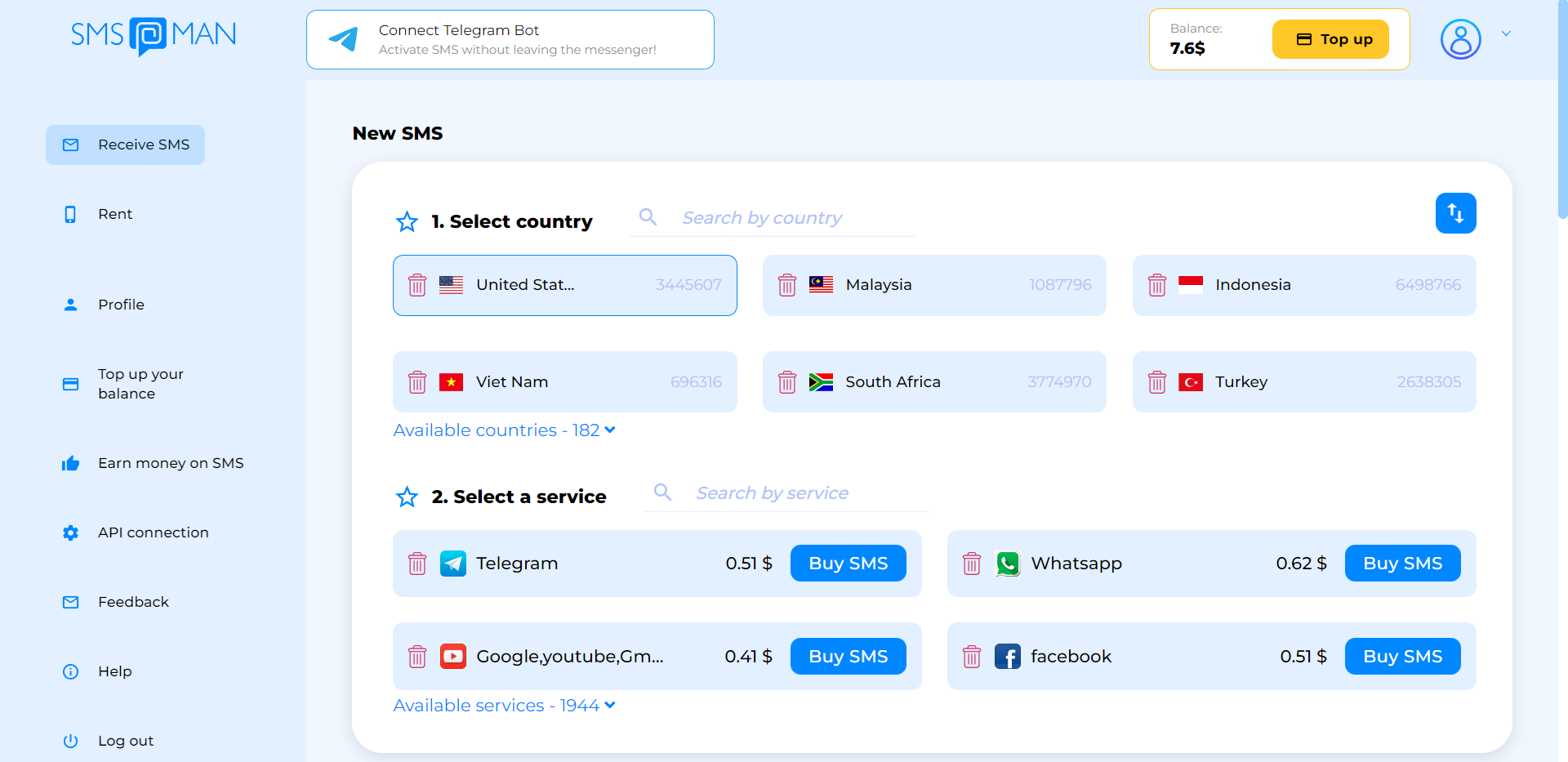 You won't find such low prices on any other websites. But there are also other benefits, in addition to cheap prices. So, this service is very easy to use. Besides, you can create an unlimited number of Telegram accounts via mobile operators from multiple countries. Thanks to sms-man.com, Telegram sign up without phone number takes only a few minutes. A user just needs to take these simple steps:
Go to a quick registration on the website.

Deposit his account using the most convenient payment system.

To choose the icon of Telegram on the left.

To choose a country and a phone number from a huge list.

After a purchase is confirmed, a virtual phone number can be safely used to register on Telegram.
To sign up for Telegram with the help of a virtual number, you should enter it as a usual phone number in the corresponding line in the registration form of the messenger. After the confirmation SMS is sent, go back to the main page of the website and open "History". Then, click on "Get SMS" next to the virtual phone number bought. The code sent by messenger will appear in the box "SMS".
Skype phone number to create an account on Telegram
You can get an additional account in the messenger with the help of Skype as well. Using it, you can also purchase a virtual phone number for SMS in Telegram. But it will cost about €6. The difference is huge: whether to pay from 4 to 20 rubles at SMS-Man or to waste 6 euros on Skype. Actually, Skype provides you with a phone number for a whole month, but that makes no sense if you only need it to get one SMS for registration. To receive a virtual Skype number, click on the icon of your account and select "Skype phone number" from the menu.

How to use Telegram without phone number on Android emulator
This method is the longest and most time-consuming. You will need to download two applications to your smartphone: Next+ and BlueStacks. Here is a brief guide:
Install BlueStacks on your smartphone.

Download Next+ and Telegram via it.

Sign up for Next+.

Select a country and click on "Get a Custom Number".

Next+ will generate a phone number, which you should enter in Telegram. Open the messenger via BlueStacks.

After you indicate this phone number in Telegram, the system will start counting down the time. When it expires, Next+ will receive a call, and a robot will provide a confirmation code.
Conclusion
To use Telegram without phone number in 2022, you can choose any of the methods described above. The cheapest and most popular one is to buy a virtual number for Telegram via the service sms-man.com that offers the lowest prices on the market. The other two methods are less effective and require either a lot of money or a lot of free time.
Vyacheslav is SEO expert at SMS-MAN. He also writes on virtual numbers and SMS verification issues on SMS-man Blog.
You can reach Vyacheslav at: z@sms-man.com